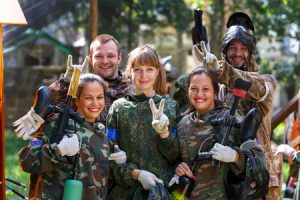 Wondering how to dress for your first (or hundredth) game of paintball? Well, there are different outfits you should consider, especially during the Fall season. Here's our handy guide to help you find comfortable, practical apparel for your next game this Fall season!
Cover Up
Yes, it may seem counterintuitive to cover up when you'll be running around, especially if it's warm outside. The Fall season can be pretty warm sometimes, and other times, it can be very cold. However, wearing long sleeves and long pants will protect your skin from paint (which is nontoxic and harmless but annoying to wash off) and reduce the welts that can occur when paintballs hit bare skin.
Dress in Layers
If it's relatively cool out, layer up with sweatshirts and sweatpants to further reduce the impact of paintballs on your body. If you're a paintball enthusiast and enjoy playing during crazy weather, we recommend bringing rain gear and mud gear.
Go Dark and Wear Camo

Save the all-white ensemble for later. Not only do dark colors reduce staining, but they also help you avoid detection during a paintball game. Paintball paint is washable, but you may find yourself crawling through mud or grass, which can ruin light-colored clothing. The goal is to stay hidden from your opponents so wearing camo can help you stay undetected in the woods or other fields.
Stay Loose
Avoid wearing tight-fitting clothes or anything that will constrict your movement. You want to stay as nimble as possible during your game.
Sneakers or Boots
Choose footwear that's easy to move in and that you don't mind getting dirty. Boots are recommended to play in because they are durable and good for rough terrains.
Safety Matters
Wear a hat or beanie to protect the top of your head, as well as gloves to keep your hands welt-free. Of course, you should also wear a pair of protective goggles at all times.
Ready to play some paintball in the West Milford area? At Battle Creek, we offer 15 acres of woodlands, hills, paths and fields—the perfect setting for a thrilling paintball experience. Give us a call at (973) 545-2556 to learn more or book your next game online today!