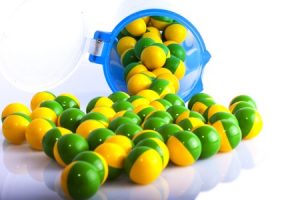 You're not alone. You may have shot many thousands of paintballs over the years, but do you really know what these paint-filled projectiles made of?
First of all, rest assured that you're always getting hit with materials that are completely non-toxic and biodegradable. If you want a closer look into the construction of a paintball, read on.
Paintballs consist of two parts:
The Shell
The shell is the outer portion that breaks apart when your paintball makes impact with a surface – ideally a member of the opposing team. The shell is almost always made of gelatin, and it functions similarly to a supplement capsule. It contains the fill, but will break upon heavy impact. It's important to store your paintballs properly, because the gelatin can harden in the sun or when exposed to air for a long time. When the gelatin gets too hard, you won't get that satisfying splat when you make contact with an opponent.
The Fill
The fill consists of dye and solvent that marks your opponent once the shell breaks apart. The contents of the fill vary, but usually consist of water-soluble dyes contained within polyethylene glycol. Some cheaper variants are made with an oil base, but these are harder to wash out of clothing and not as environmentally friendly.
At Battle Creek Paintball, you can enjoy playing fast-paced games across 15 acres of woodlands, hills and fields that pose unique tactical challenges for beginners and veterans alike. Just give us a call or contact us online to book your reservation today!